Testing out a
Crock Pot recipe
where you stick the whole damn thing in the crock. If this is successful it could be a game changer! What an exciting life I lead, right? Whatever. Im okay with finding joy and meaning in juicy chicken.
Anyhow, here's what it looks like going in.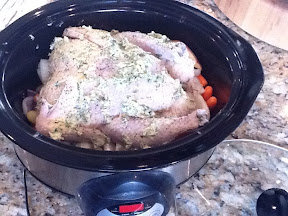 I'll let you know how this all goes down later. I might also rant for a bit about how the iPad has such a crappy camera. Enticing isn't it? I just can't help myself.
What are you doing that's slow and low today?
He he, that sounded dirty.
I'm a child.